An intercontinental virtual company for 23 years
---
Ewarenow's mission is to help you make the most of your business software and Information Technology (IT) infrastructure. We do it your way to meet your goals.
We and our partners have decades of business and technical experience working for and with private sector and public sector organizations of all sizes in numerous industries and disciplines. We haven't seen it all, but we've seen a lot of it.
Your business is unique, so we work to understand the business, operations, and user context in which the app we design and produce for you will be used. That informs how we flesh out the requirements to the development team.
Our development team consists of software engineers with proven skills and demonstrated results developing software apps with specific, relevant technology stacks. They produce technically correct, efficient, reliable, and maintainable software. Our QA team validates that it works correctly and conforms to the requirements.
Ewarenow LLC is a New Hampshire based company founded in 1999.
About Doug MacLean
Douglass W. MacLean is Ewarenow's founder and a New Hampshire native. He lives in Thailand close to Ewarenow's primary software development partners: Enclave and Soft Square Group. And far from cold winter weather.
His entire career has been in the computer industry. Except for a painful, but educational three years running a small property management company.
Doug began his career with 9 years as a programmer at IBM, working on inventory management software for the retail and supermarket industries. IBM national account managers sought him out because he was adept at discussing senior customer executives' needs in business, not technical terms.
Doug's breadth of business savvy grew in 17 years at Digital Equipment Corporation (DEC). Mid-level management positions included: software development, software quality, product management, and hardware development. He frequently worked with U.S., Canadian,  European, and Australian DEC colleagues and their customers. His time in the DEC Government Systems Group entailed much interaction with U.S. and allied countries' defense and intelligence organizations.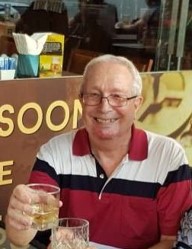 Doug is a member of the American Chamber of Commerce in Thailand (AMCHAM). He chaired the Small and Medium Enterprise (SME) committee for several years and is a member of the Information and Communication Technology (ICT) committee.
He has a degree in electrical engineering from UNH, completed computer science courses at Columbia University, and quality management courses by W. Edwards Deming and Philip Crosby Associates.
Doug reads voraciously and writes dynamic SQL Server stored procedures for fun. He enjoys water sports including snorkeling and scuba diving. He's done parasailing and took lessons in hang gliding. He drew the line at skydiving, being advised by his scuba coach that if your scuba equipment fails, you do have a reasonable chance to reach the surface alive.
About the Ewarenow Network
The Ewarenow network spans three continents, six countries, seven U.S. states, numerous cities/towns, and many cultures.