Work Smarter Not Harder with Custom Software Development
---
Custom software can create efficiency as well as add flexibility. Discover the business benefits of working with a custom software development company.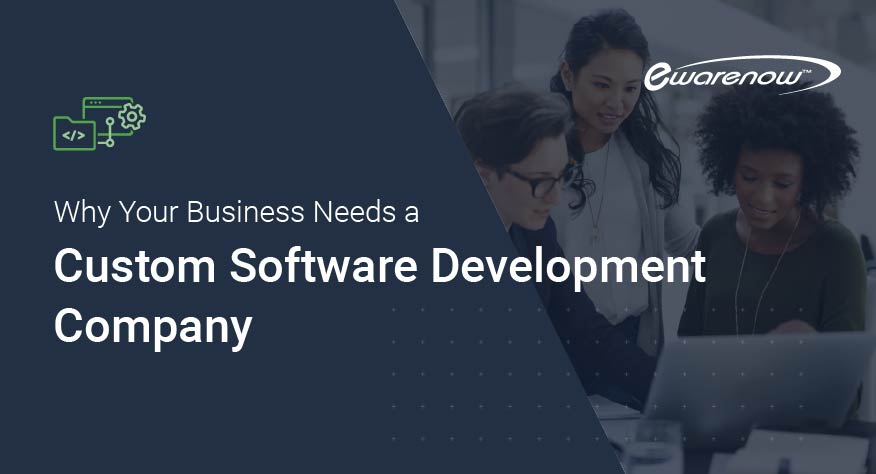 Development of custom software is a process of designing software applications that meet the specific needs of a company or individual. Here are a few reasons why a custom-made software program will benefit your business.
Why Your Business Needs a Custom Software Development Company
When you're first starting your business, you may not realize that your business needs custom software. However, once you get your bearings and your business is off the ground, custom software will be the difference between your business merely doing well or thriving, and will affect your business in a variety of ways.
Targeted Solution
Not all businesses are one-size-fits-all. Customized solutions can be more adjustable to your needs. Build specific software that supports the work you actually do to produce results, generate revenue, and satisfy customers.
If you've got no experience building software, it would be better to outsource to a custom software development company that will help you build the software you need. Having a targeted solution is one of the reasons why custom software development is important.
A custom software development company will help you understand which parts of programs you use the most and help you create software that plays to your business' strengths. Your streamlined software will keep your business flowing, help increase profits, and keep your customers and employees happy.
Improve Productivity
Make the software support your workflow. Don't de-optimize your workflow to compensate for the software's limits or idiosyncrasies.
Too many features can make it hard to find the 12% that your users actually need 95% of the time.
Too many vital (but trivial) decisions and actions users need to take can leave one wondering where to file the document.
Too many notifications result in too much asking for confirmation and not enough software initiative. Don't interrupt, don't help, and don't make the user click/tap Save all the time. 
One of the advantages of custom software is that you can mold it to what you need instead of fitting the mold of pre-made software. Custom software will ensure these features are front and center, so your clients don't have to dig around your website to find what they're looking for. 
It will also streamline this process, so your customers aren't left wondering, and your employees don't have to explain how to navigate the site. Working with a custom software development company will make sure your interface isn't overwhelming and guides customers rather than frustrates them.
The custom software should do all the work so employees can focus on customers and customers can focus on the fantastic service you're providing. Productivity can increase tenfold with custom software for your business, especially when the program does all the leg work.
Let Your Business Scale
Using only standard off-the-shelf software might hold your business back. Don't be limited by that software. Custom software will allow you to better serve existing customers, increase productivity, and thus allow your business to grow. Focus on going beyond Microsoft Word, Excel, and Access.
While Microsoft can provide excellent starter software for you and your business, they aren't ideal for sticking with in the long run. As your business grows, it'll start outgrowing the programs that it initially used. 
For example, Word, Excel, and Access are great programs but not ideal for long-term use, especially for an ever-expanding company like yours.
Your business is booming, which means it will only continue to grow. You shouldn't stifle this growth by sticking to the same old software. A custom software development company will help your business scale up and continue to grow with minimal setbacks.
You won't have to learn how to navigate all the options of standard Microsoft products and can instead focus on learning the ins and outs of your new custom software. Odds are your new program will be simpler to navigate as well because you've cut out all the unnecessary options provided with standard software. 
Long-Term Cost Savings
When licensing off-the-shelf software, companies often have to purchase additional hardware for it to run efficiently, which can become expensive. With tailor-made software, the current hardware capabilities are taken into consideration, which helps to save money and avoid unnecessary purchases.
When you hire a custom software development company to create one-of-a-kind software for your business, you'll also save money in the long run. Standard software requires you to purchase new versions every year or upgrade your computer to run the latest software. These upgrades and subscriptions can add up big time the longer you use standard software.
You may pay something upfront when hiring a custom software development company, but this is a one-time cost instead of continually having to pay to continue using something like Microsoft Office. Plus, you may be paying for extra features you don't even use. Custom software is the way to go for a growing business.
You Are In Charge
Based on your purchase, you are at the mercy of the company's software developments. When building your own solution, you can set the terms, integrate with other software, and make adjustments along the way as your company grows.
Standard software is a "one-size-fits-all" for businesses, and that's not inherently a bad thing. But when your business gets big enough, and you know what you do and don't use, it's time to reconsider your standard software subscription. A custom software development company will work with you to create the perfect solution for your business.
In this case, you get to call the shots! A custom software development company will work with you to deliver a product that will only aid your business in its growth. You choose everything you do or don't want, and you don't even need to know technical jargon because that's what the company is for. As long as you know what you want, they'll make it happen.
Is Your Current Business Software Making Things Harder?
Think about it. How is your current business software helping you and your business right now? Are there tons of features you simply don't use? Is your subscription about to run out, causing you to repurchase the same old software?
If you've read through this and realized that your business could benefit from better software, you're in luck. Custom software can be the critical difference between your company merely getting by or thriving. Don't just get by - succeed! Get in touch now to start realizing the business benefits of custom-developed software.
Posted by Mole Street on 17 Mar 2021