Stay in Your Ballpark: How to Budget for Custom Software Development
---
When assessing custom software development cost, review this software development cost breakdown and request a software cost estimation to stay on budget.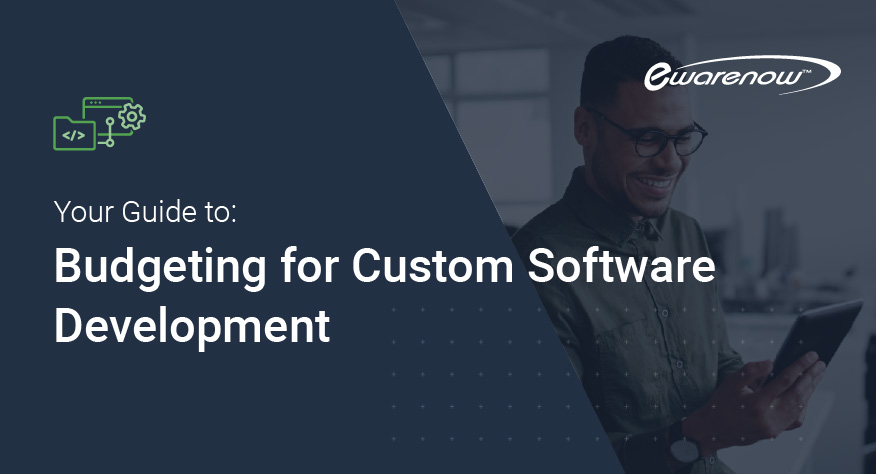 Business leaders look to custom software development to keep up with an ever-changing industry. Technological advancements, cost-efficiency, and design all factor into the software development cost estimation, ranging from affordable to high-end.
Read on to find out more about custom app development, prices, and how to obtain a software cost estimation.
How Much Does Custom Software Cost?
The cost of custom software depends on several factors. The range can be from $8,000 to $1 million. For small to midsize business projects, it may range roughly from $25,000 to $250,000.
Costs vary widely depending on integration, functionality, complexity, and more.
What Is Custom Software?
Custom software is an application tailored to specific needs of a business. Often the customization is to support a company, service, or individual to carry out unique work or to carry out work in a unique way. Custom-developed software often also provides a coherent solution by integrating separate tools, tasks, and processes into a whole.
For example, developers can create a workflow management application for a business to organize its employees' tasks with deadlines and deliverables for better productivity and efficiency.
What Impacts Your Software's Cost?
Several aspects impact your software's price, including its size, complexity, design, integration, migration, and delivery timeline.
Software Size
Simply stated, the bigger the project the bigger the cost. More people using it. More screens or pages needed. More complexity. More user roles, each with its own set of application capabilities and restrictions. All of these add to the amount of work developers must do.
There are different sizes your project can fit into:
Small: 10 - 25 screens. Cost $25,000 to $75,000
Medium: 25 - 40 screens. Cost $75,000 to $150,000
Large: 40 or more screens: Cost $150,000 and up.
Developers will work with you to ensure there aren't extra pages to complicate the software, saving you money. However, depending on your project, software complexity may increase costs.
Software Complexity
If your project calls for more coding, troubleshooting, quality assurance—it's going to have a higher price tag.
Apps that call for more algorithms and grueling analysis require more layers and more time. Especially if the project is a large-size with more than 40 screens, expect a hefty price.
Complexity may cost each project in these ranges:
Small complexity: $15,000 to $25,000
Medium complexity: $25,000 to $50,000
Large complexity: $50,000 and above
Depending on the blueprint, it may be harder to avoid complexity. However, keeping it simple will save you thousands, which may come in handy for the design.
Design Type
Finding your creative design may be the most fun you'll have on your project. You let software developers know the color palette you want to match the theme of your company. Creative designing is the time to include any symbols or logos that fit the business.
The most important design aspect is the user interface, where customers using your app want a user-friendly design. Minimalist designs with smooth functionality while visually stunning result in a better user experience, prompting positive reviews.
Prices for design rely on many aspects with average prices including:
Small design: $8,000 to $15,000
Medium design: $15, 000 to $25,000
Large design: $25,000 and above
Overall, simplicity will be the key to an efficient design.
Integration With Other Systems
Today, there are many other apps to connect to for both the business and the customer. For instance, the more payment providers your program effortlessly integrates into, means more opportunities to collect payments.
PayPal, Stripe, Salesforce, and similar platforms are easy to integrate, but what about the more complicated programs?
Similar to software complexity, the more complicated the integration, the higher the cost. More obstacles mean more coding, time, and troubleshooting.
Prices for bolstering 3rd party integration include:
Small: $6,000 to 10,000
Medium: 15,000 to 20,000
Large: 20,000 or more
If your program requires more coding and testing with integration to CRMs and complex API programming, expect to pay more.
Migration of Existing Data
How complicated is the process for migrating existing data to your new program? Due to technological advances, apps become outdated, prompting the old data to move out from the prior system.
Luckily, the steps for migrations are easy, involving custom scripts that transport the data with ease. However, depending on how old the program is and its compatibility with new-age technology, development may or may not be delayed.
After the data is transported, there will be a series of tests to ensure everything runs smoothly. If there are complications, adjustments must be made, prolonging developments, thus costing more money.
Prices for migration of existing data include:
Small: $7,000 to $10,000
Medium: $10,000 to $25,000
Large: $25,000 or more
If there are complications, adjustments must be made, which may prolong developments, thus costing more money.
Time Frame for Delivery
The delivery is crucial and requires patience and following through with deadlines, as each program has its own development lifecycle. For example, there will be strategic planning, followed by design, coding, implementation, testing, and final production.
Many developers also have a standard timeline, such as six months to complete a program. However, if you want it in four months, it will increase the price.
These are the following price ranges for delivering, without adjustments:
Small: $5,000 to 7,500
Medium: $7,500 to $10,000
Large: $10,000 or more
Also, more developers working on the project does not equate to a faster turnaround, but it may increase the price.

Get Your Business Software Up to Speed
Custom software development cost depends on several factors, such as size, complexity, design, integration, existing data migration, and delivery.
Looking at the software development cost breakdown, it may be overwhelming, especially for start-ups.
That's why you should get in touch with Ewarenow for a software cost estimation. Whether your app is outdated, falls short of expectations, or you want a new type of application—we'll work with you to get you the best price. Fill out the form, and we will respond in 1 business day or less.
Posted by Mole Street on 31 Mar 2021